In my family, we watch It's A Wonderful Life on Christmas Eve (we're watching it on NBC right now, though we own it on VHS and DVD, too). Several years ago a new tradition started: after everyone went to bed, I watched, and sobbed my way through, the middle-third of Boyz N the Hood, John Singleton's 1991 directorial debut, a drama about three young men coming-of-age in Los Angeles.
It's A Wonderful Life, directed by Frank Capra, released in 1946, and set on Christmas Eve as one man's life falls apart, is an undisputed American tradition. Pre-COVID (and possibly during it), it plays in prestigious theaters across the country. The film is firmly part of America's Christmas culture, whereas there is seemingly nothing seasonal about Boyz N the Hood or any cable channel's choice to air it on Christmas Eve. Nevertheless, while It's A Wonderful Life is one of my dad's favorite movies, because of my inadvertent tradition, Boyz N the Hood is one of mine. 
Singleton's drama is packed with an all-star cast: Cuba Gooding Jr., Morris Chestnut, and Ice Cube star as three friends growing up in Crenshaw, a primarily Black neighborhood in South Los Angeles. Laurence Fishburne and Angela Bassett are the parents of Gooding's Tre, a young man who wants to leave the neighborhood and go to college, while Nia Long, Tyra Ferrell, and Regina King are the assorted women (girlfriends, mothers of children) in their lives. One year a network aired Menace II Society and I was caught up in the 1993 Watts-based drama instead; I long for a 1990s drama about the lives of women in Los Angeles, where their story is the focus, instead of an ancillary subplot.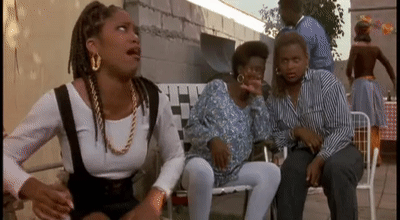 The drama ends in tragedy, and I often stop the film and go to bed before Morris Chestnut's Ricky is slain. I've done this so many times I forgot that the film has an entire act before his character is laid to rest. Christmas morning I explained my exhaustion with a bewildered retelling of the film's end, to the chagrin, I am sure, of my parents. I know this is not the point of the film, much as I am sure that Singleton did not make the film so that a middle-class white woman could sob every Christmas Eve and shamefully buy an accompanying shirt from Hot Topic. (Old Navy sold it, too.)
The film is a critical and financial success. Rotten Tomatoes rates it at 96%, and it screened at Cannes. Singleton was nominated for Best Original Screenplay and Best Director at that year's Academy Awards, and was the first Black man and youngest nominee. He was 24. (Damien Chazelle is the youngest winner, at 32 for La La Land in 2016. Jonathan Demme won for Silence of the Lambs, while Thelma & Louise were awarded Best Original Screenplay.) It launched or solidified the careers of its young cast, while Ice Cube, who had risen to prominence in N.W.A., was considered seriously as an actor. Curiously, the film and Ice Cube were nominated for Kid Choice Awards in 1992. 
Boyz N the Hood isn't airing in my metropolitan area tonight or during the next two weeks, but it is streaming on Hulu. You can stream it free on IMdB or rent it via Google Play, Vudu, Amazon, and iTunes. (Menace II Society is not airing, either, but it is streaming on Peacock, BET+, and HBOMax; it's available for rent via Google Play, Vudu, Amazon, and iTunes.) After years of accidentally watching the film until dawn, it can be my choice to sob until 3 a.m.