Our nation is (well, hopefully) under lockdown: America's offices are closed as its workers struggle to work from home, schoolchildren are learning online, and your local bartender is mixing live on Instagram. We think the latter's super cool, but long for the time when we could sit shoulder-to-shoulder with our neighbors and show them the IMDb listing for Bacurau (which is what I did the last time I was in a bar).
While this is the worst time to watch Outbreak and Contagion it's the best time to binge something lighthearted and reassuring. (Or finally, watch The Wire.) Besides, everyone has already watched Love is Blind and Tiger King, two Netflix powerhouses you won't find on this list, a short guide to 30-minute sitcoms that won't ruin your life during this hellscape we are generously calling "quarantine."

Parks & Recreation
Parks & Rec, a relic from another presidency, follows a type-A politician as she tries to make her hometown, Pawnee, Indiana, a more perfect place. We don't want to work for Leslie, but we wish she was real: Leslie apologizes for her mistakes with grace and never has to compromise her values to keep men happy.
If you've never watched Parks & Rec, start with season two's "The Master Plan." Season one is notoriously bumpy (plus Leslie is uncharacteristically weak in the face of her crush), but the introduction of Adam Scott's Ben Wyatt and Rob Lowe's Chris Traeger balance nicely against Leslie's desperate attempts to keep the parks open. As a bonus, you can nod knowingly when die-hards chatter about Paul Schneider's Brendanawicz, the city planner with one foot out the door.
Watch it on Hulu, Netflix, Prime Video, and limited over-the-air networks. (We formally petition Cozi to open up an hour block during the day, because even Katherine doesn't need three hours of Little House on the Prairie.)
Honorable Mention: 30 Rock, beloved by the founding Scholars, this spiritual sibling has basically all the same stuff, but with a little more edge.
The Addams Family
If Father Knows Best or that damn Donna Reed had modern values and better jokes it might have been The Addams Family. Feast your eyes on a different timeline: husbands loved their wives and didn't complain about them (looking at you According to Jim, Black-ish, Modern Family, King of Queens, et. al.), parents supported their kids (decades ahead of The Fosters) regardless of how weird or stupid they were (…and Bob's Burgers) while carrying for their elders and wanting, genuinely, to be good people.
Gomez and Morticia are very loving to each other, and when they disagree about sending Wednesday and Pusley to school, it's hardly a fight. Charmingly, Gomez wants to keep them at home, because he'll be lonely.
It's a ridiculously soothing exercise in celebrating families, no matter how "different" they, or its members, are from the status quo.
Watch it on Prime Video.
Honorable Mentions: I Love Lucy, a landmark comedy for its time, suffers from rampant sexism, but does bring plenty of laughs. I've watched it all the way through more than once, as it's a Hill Family Classic, but I wouldn't recommend it to everyone. (Sorry, Mom.) The same goes for The Nanny, which I've been watching late at night after work, as it requires very little brain-power, and I deeply admire Fran Fine's outfits and hair height. I do not admire how her employer and love interest strings her along for several years, or how she's battling another woman for his affections, and can't say anyone whose brain isn't a warm pile of goo might enjoy it.
Little House on the Prairie, which airs in a three-hour block on Cozi, has brought my family a lot of joy over the years, even though Albert is the worst and not even in the books. However: its 1800s conservatism will chafe many viewers, and every time I try to watch it, it's a horribly depressing episode, like the time Ma considered and then abandoned feminism, or the birth and death of the Ingalls' baby boy, or any number of fatal prairie fires.
Golden Girls
Another vote for old sitcoms come on behalf of Golden Girls, the 1980s classic sitcom about four women living up their golden years in Miami. Except, not really: Blanche and Rose are pretty young to be widows, and they're all in their '60s and pre-menopausal. Nevertheless, the humor is light, the politics are strong, and the laughs will be genuine.
And since Golden Girls was made in a different time, each season is over 20 episodes, taking up more time than today's sitcoms or dramas.
Watch it on Hulu.
LetterKenny
Vulgar and violent, this sitcom from Canada is nevertheless filled with heart, humor, and tongue twisters that will require you captioning. Set in the fictional, rural LetterKenny Canada, the comedy follows a small town's cliques. Shockingly LBTQ+ friendly, the groups are all bluff when they claim to hate each other, quickly coming to each other's aid because, "When a friend asks for help, you help them."
Some viewers will be irritated by the comedy's blase attitude towards drugs (especially meth), sex, and violence. But if you're not turned off by "Fartbook" you'll be delighted, and hopefully hooked.
Watch it on Hulu, or Crave if you're in Canada.
Honorable Mention: Schitt's Creek, duh. This universally-Scholar approved comedy is full of heart and lacks the violence and profanity of its Canadian cousin.
Kim's Convenience is also Canadian and filled with warmth. Most strife is worked out in the end through clear, open communication (I guess I like it when people apologize!) and riffs between generations are easily solved with love and understanding. And yet, the show is not Wilford Brimley, it is hilarious and never saccharine. Kim's is streaming on Netflix and usually appropriate for the whole family.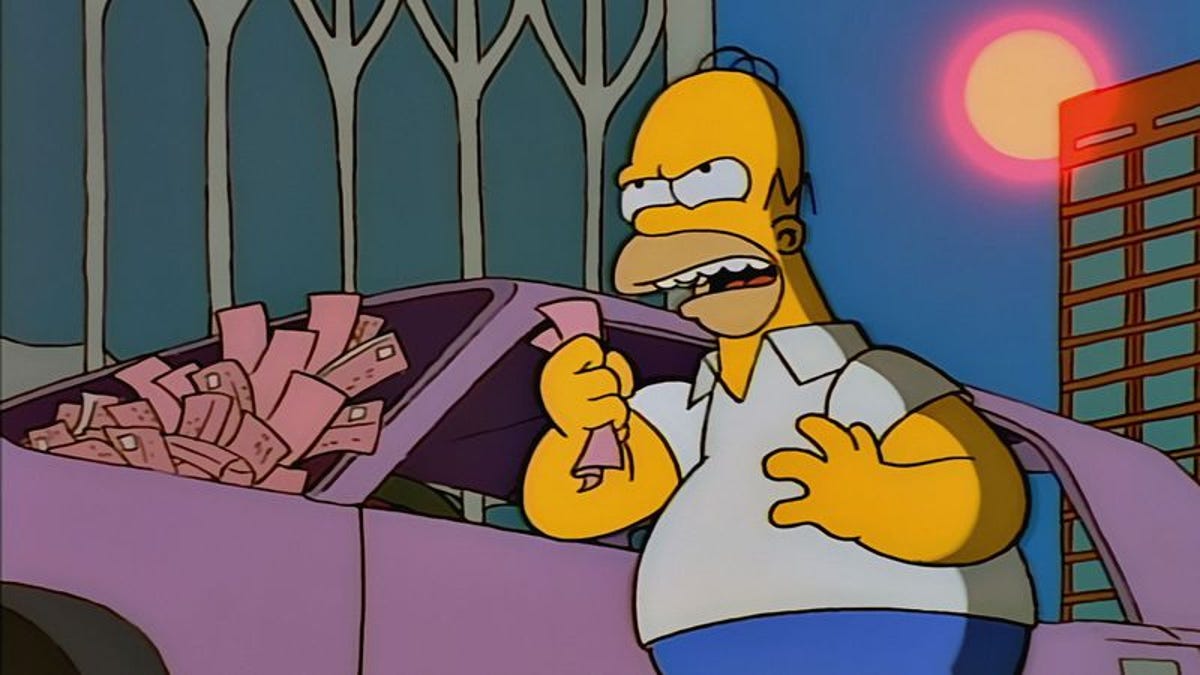 The Simpsons
No long as respected as it once was, the Rodney Dangerfield of innovative comedies still shines in its older episodes. Regardless of your own history, start with the series' second episode "Bart the Genius," and stream from there. (The first episode, a depressing Christmas story, has no place in this hellscape.) Watch them all, or skip around and watch the best episodes from the first eight seasons:
"Moaning Lisa" (S1E6)
"Krusty Gets Busted" (S1E12)
"Bart Gets An 'F'" (S2E1)
"Simpson and Delilah" (S2E2)
"Bart the Daredevil" (S2E8)
"One Fish, Two Fish, Blowfish, Blue Fish" (S2E12)
"Oh Brother, Where Art Thou?" (S2E15)
"Lisa's Substitute" (S2E19; BRING TISSUES)
"Mr. Lisa Goes to Washington" (S3E2)
"When Flanders Failed" (S3E3)
"Bart the Murderer" (S3E4)
"Like Father, Like Clown" (S3E6)
"Lisa's Pony" (S3E8)
"Flaming Moe's" (S3E10)
"Separate Vocations" (S3E18)
"Colonel Homer" (S3E20)
"Kamp Krusty" (S4E1)
"Lisa the Beauty Queen" (S4E4)
"Mr. Plow" (S4E9)
"Marge vs. the Monorail" (S4E12)
"I Love Lisa" (S4E15)
"So It's Come to This: A Simpsons Clip Show" (S4E18)
"Whacking Day" (S4E20)
"Homer's Barbershop Quartet" (S5E1)
"Marge on the Lam" (S5E6)
"The Last Temptation of Homer" (S5E9)
"Lisa vs. Malibu Stacy" (S5E14)
"Deep Space Homer" (S5E15)
"Bart of Darkness" (S6E1)
"Lisa's Rival" (S6E2)
"Homer the Great" (S6E12)
"And Maggie Makes Three" (S6E13)
"Lisa's Wedding" (S6E19)
"The PTA Disbands!" (S6E21)
"Lemon of Troy" (S6E24)
"Radioactive Man" (S7E2)
"Home Sweet Homediddly-Dum-Doodily" (S7E3)
"Bart Sells His Soul" (S7E4)
"Lisa the Vegetarian" (S7E5)
"King-Size Homer" (S7E7)
"Mother Simpsons" (S7E8)
"Marge Be Not Proud" (S7E11)
"Team Homer" (S7E12)
"Scenes from the Class Struggle in Springfield" (S7E14)
"Lisa the Iconoclast" (S7E16)
"A Fish Called Selma" (S7E19)
"Raging Abe Simpson and His Grumbling Grandson in "The Curse of the Flying Hellfish" (S7E22)
"Homerpalooza" (S7E24)
"Summer of 4 Ft. 2" (S7E25)
"You Only Move Twice" (S8E2)
"Bart After Dark" (S8E5)
"El Viaje Misterioso de Nuestro Jomer (The Mysterious Voyage of Homer)" (S8E9)
"The Springfield Files" (S8E10)
"The Twisted World of Marge Simpson" (S8E11)
"Brother from Another Series" (S8E16)
"Grade School Confidential" (S8E19)
"In Marge We Trust" (S8E22)
"Homer's Enemy" (S8E23)
"The Secret War of Lisa Simpson" (S8E25)
Or watch every Lisa-centric episode, or watch every "Treehouse of Horror" (it starts in season two!), or watch any random episode before 2000.
Watch it on Disney+, or weeknight marathons on FX. 
Honorable Mention: Bob's Burgers, which is on Hulu, is an animated show beloved by founding Scholars. It can be hard for a new viewer to get past the pilot though (there's a child predator joke). It's easier to skip around, as the show is not vulgar, I promise, and depicts a loving family that supports each other's eccentricities with love and acceptance.