There's a new Star Wars out, so, is anything else worth acknowledging?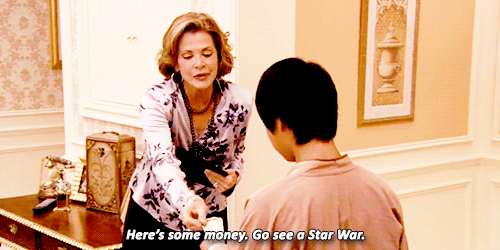 Spent
is an unrated dark comedy about bad people behaving badly when a rich man's brain tumor doesn't kill him.
Desolation
is a horror film about a man stalking two women and a young boy who are just trying to hike off their enormous grief but can't because some asshole in '90s era sunglasses wants to murder them instead. I told you hiking is for suckers!
Star Wars: The Last Jedi
, the latest Star Wars installment, looks to feature a shitload of Luke Skywalker, but also maybe Rey kicking ass?
The Thousand Faces of Dunjia
is a Chinese fantasy-action film from Yuen Woo-ping. This is a remake of his 1982 film
The Miracle Fighters
.
Beyond Skyline
is a sequel to the 2010 sequel
Skyline
.
The Soul of Success: The Jack Canfield Story
is a documentary about motivational speaker Jack Canfield.
Killing for Love
is a documentary about the murder of Derek and Nancy Haysom in 1985. Their daughter's boyfriend Jens Soering maybe took the fall for the murder? Imogen Poots and Daniel Bruhl feature in this thriller-true crime investigation.
The Ballad of Lefty Brown
is a Western starring some old white people. To paraphrase my friend Julia, unless the Western does something new, I'm not interested.
Fukrey Returns
is the sequel to 2013's
Fukrey
, a comedy about four wacky, slacker brothers. They're back to make more easy money.
Gotti
is a biographical drama about mob kingpin John Gotti. Unfortunately, it stars John Travolta (WHY), is directed by Kevin Connelly (WHY). Travolta is joined by his real-life wife Kelly Preston, in the role of Victoria Gotti, and his daughter Ella Bleu plays Gotti's daughter Angel. So it's one big Travolta party, and I have to wonder how the Gotti Family let this stinker happen.
Permanent
is a 1980s coming-of-age comedy about a smart young lady who gets a bad perm. Kira McLean stars as our heroine; her parents are portrayed by Rainn Wilson and Patricia Arquette.
Ferdinand
is an animated inspired by the best-selling, much beloved children's book Ferdinand the Bull. I am boycoting this on principle. Fuck this movie. And John Cena.
Here is the 1938 animation from Disney which sucks less:
And coming out Wednesday:
The Greatest Showman is a musical about P.T. Barnum. I think this is good for Navani, but a hard pass for this writer. This Oscar bait stars Hugh Jackman, Michelle Williams, Zendaya, and Zac Efron.