I hate musicals but as a native Marylander I am legally obligated to love Hairspray, the 1988 seminal John Waters film. That my parents were still advance screening PG films when I was 7 it's a miracle that I grew up with repeated viewings of Tracy Turnblad's journey to bring plus-sized girls to television and integrated dancing.
Hairspray might have been my first exposure to America's icky history of racism, and why it's by no means perfect, I shed plenty of tears during a Hulu viewing of NBC's Hairspray Live! last weekend.
Hairspray tells the story of Tracy Turnblad, a hefty teenager living in Baltimore. Tracy has big hair and loves rock and roll, and her dedication to the aerosol can and The Corny Collins Show, a local rock and roll show lands her in detention with the school's Black kids, who teach her to dance. Tracy loves her friends, who are just patient enough to point out that every day is "Negro Day," not the last Thursday of the month, and Tracy becomes desperate to dance with her friends in real life and in television. It's nice how in Live! Tracy is desperate to credit Seaweed, The Smartest Kid In School, for her moves. Tracy is effervescent and can't be stopped, which leads to a brief endorsement from Hefty Hideaway and a tight race against Corny Collins' meanest girl Amber Von Tossle for a beauty queen crown, which Tracy wins but does not want. Tracy wants equality and she wants it now! Ultimately Live! and the Hairspray films are kind of bland by the end, but the films and last week's Live! are as charming as Baltimore itself.
I always felt like the musical and 2007 film adaptation were unnecessary. Give me the Ricki Lake, Sonny Bono, and Debbie Harry original or give me death, but the cast in last week's musical were on fire. Maddie Baillio was born to play Tracy, exuding sweetness, spunk, and charm. Dove Cameron, Ariana Grande, Martin Short, Andrea Martin, and Sean Hayes nailed their roles, while Harvey Fierstein is the only true successor to the role Edna Turnblad. (The facade for Divine's Pet Food in Downtown Baltimore was a sweet tribute.) I look forward to more from Ephraim Sykes, the young man who inspires Tracy and wins Penny's heart.
Viewers hoping for flubs can look forward to very minor sound issues in the first act and in the behind-the-scenes tours meant for commercial breaks. (Or you can skip the latter, because it's boring and grating.) As for the production, it's otherwise perfect.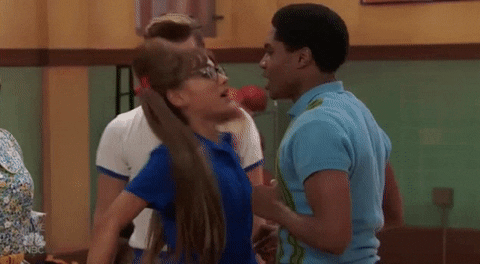 You can stream Hairspray Live! on Hulu, and you should, because it may warm your dead, frozen heart.